T-Mobile USA should be getting the
HTC Sensation 4G
soon - with HSPA+ - and it looks like it could be there in less than a month. Leaks from Target indicate that the smartphone could be available on June 12th for $199.99 on a 2-year contract. The smartphone will be going head-to-head against the Galaxy S II which should be available in the US in a few months. If you don't feel like waiting then you might want to consider getting this one.
Update:
TMoNews
has gotten their hands on another leak (below) that says that the smartphone could actually be available on the carrier on June 8th.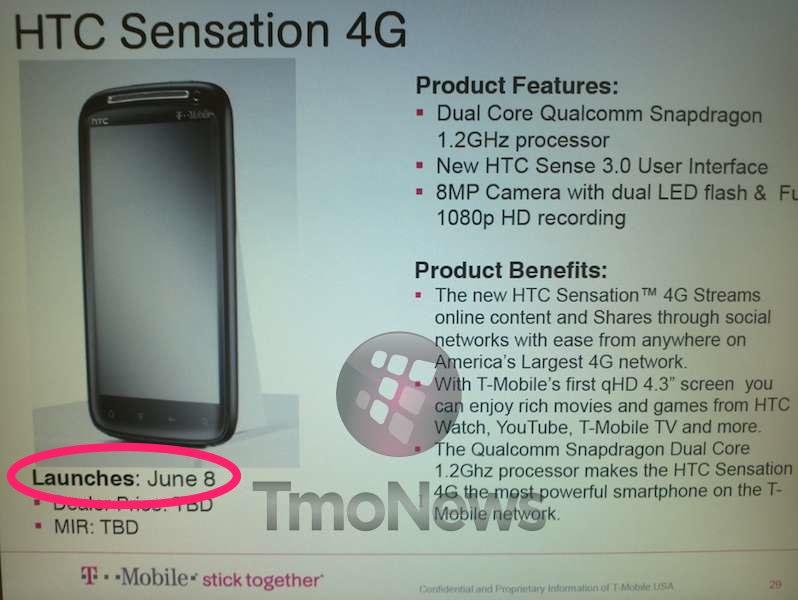 [
Unwired View
]
Posted by

Unknown
Labels: amazon, Android, ATT, Google, hp, hp veer, HSPA+, palm, samsung, samsung infuse 4g, touchwiz, usa, webOS
Looking to get the next big smartphone on AT&T? Then you might want to take a look at the
Samsung Infuse 4G
and the
HP Veer 4G
which both feature HSPA+ connectivity for faster speeds. The Infuse is the 4.5-inch monster from Samsung which is as close as it gets to the Galaxy S II in the US, while the Veer is as small as a credit card and features a portrait slide-out QWERTY keyboard.
Update:
The Veer is available for free on a 2-year contract at Best Buy and the Infuse is going for $149.99 on a 2-year at
Amazon
.
[
Engadget
]
If you're willing to get a tablet that's running Android 2.2 then you might want to take a look at the
Streak 7
which is now available in Canada. The tablet sports a Tegra 2 CPU, a 7-inch display, dual cameras, WiFi / Bluetooth support, 16GB of storage, and a microSD card slot. The tablet is available right now for $399.99 which is a decent price - until we get the Asus Transformer up here. Check out the tablet on
Dell
.
[
Mobile Syrup
]