Toshiba is pulling out all the stops with their future line-up - take a look at the roadmap above. The
Toshiba TG01
is not even available yet and there are already talks about Toshiba's future devices, which is magnificent for us. It's no surprise that the
TG01
will be a powerhouse (4.1-inch screen and 1GHz CPU on-board), but how could Toshiba top that device?
The TG (phone) line-up (TG01, TG02, and TG03) will all have the same: slim physical build (129 x 70 x 9.9mm), monstrous 4.1-inch touchscreen with a 800 x 480 resolution, and the 1GHz Qualcomm Snapdragon CPU. You can now basically check off the powerhouse section on your self-made checklist. The TG01 runs WinMo 6.1 while the TG02 and TG03 will run WinMo 6.5 and will be available by the end of Q3 2009. The Toshiba TG02: is splash-resistant (should've made it water-proof), has a 3.15MP camera, has GPS, and also has HSDPA support. The Toshiba TG03, on the other hand, will have a 5MP camera and 5.1-channel audio. Looks like the TG02 and TG03 don't disappoint feature-wise.
Toshiba K01
has a 4.1-inch
capacitive
touchscreen and has a slide-out QWERTY keyboard. I don't like the design but the fact that it has a slide-out QWERTY keyboard really turns me on. The
Toshiba K02
, on the other hand, has a clamshell design and sports a 3.5-inch
resistive
touchscreen display. "The Toshiba K02 has a secondary display and ten additional keys on its front - it's hard to tell but it may become Toshiba's Communicator." It also looks like the clamshell design reveals a QWERTY keyboard, but I'm not sure since the picture is fairly blurry. Both the K01 and K02 will have a 3.15MP camera and will also have HSPA support.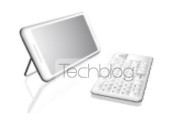 Last but not least it's the
Toshiba L01
. It is said to be a WinMo 6.5 device with the same 1GHz CPU that all of these Toshiba devices have. It has a 7-inch display, a detachable QWERTY keyboard, HSPA support, and what looks to be a stand of some sort. Since the L01 has such a large screen it could turn out to be an MID, so it's not a phone per say.
These devices look hot, so you can scroll up to double-check the roadmap to see when your favourite device will be available. I'm really excited that they all pack the same 1GHz CPU. The TG line-up looks amazing and I truly can't wait for all of these devices to be available. Thumbs up for Toshiba!!
[
GSM Arena
,
Mobile Crunch
]