CES 2009 news now.


Thin is officially in, with pretty much everything at CES 2009. Samsung has just shown off their 2 new Blu-ray decks and they are extremely thin, as you can see in the picture, on the left side. One of them is "a wall-mountable 1.5-inches thin (BD-P4600) and the other is a low-profile, sleek tabletop deck (BD-P3600), and both stream Netflix and Pandora. These both look amazing and will be available in the "first half of 2009."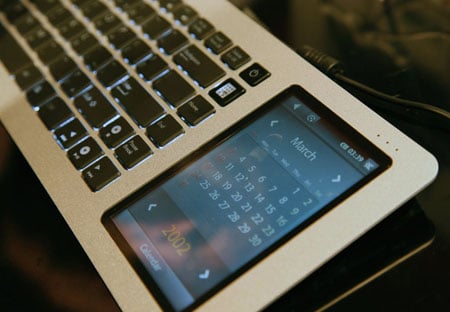 Asus has shown off, to the world, their new keyboard. A 5 inch touchscreen on the right side of the keyboard, signals to the user that this is not your regular keyboard. "The keyboard is powered by Intel's Atom processor and incorporates a selection of USB and video ports around the back. It has solid state storage and, or course, Wi-Fi connectivity." Did i mention that it also has "an Ultra-Wideband Wireless HDMI port." Wow. Right now, the keyboard is just a prototype and the battery lasts for only around 90 minutes. Asus mentioned that it will increase the battery life for up to 3 hours when it becomes publicly available. Who needs a laptop when you have the Asus Eee keyboard, built-in with everything you need. Although, if you don't use an external display you may look weird, seeing how the 5 inch screen is located in an awkward position. Currently, there is no price for this wonderful keyboard.
TV-time and Samsung is up first. They have shown 3 new LCD's with 240Hz technology, which is 2 times above the current standard. The LNXXB: 8000, 7000 and the 6000 are all extremely thin, measuring in at around an inch. This TV will have a "built-in ethernet for Netflix streaming." There is a small difference in the 3 new LCD's. The 8000 will be the only one that will use 240Hz. The 7000 is the same as the 8000, except for it being 120Hz, which is the standard. The 6000 will consume "40% less power, featuring an optimized energy savings mode and a power indicator menu." Now, if only we can fuse the 6000's energy-saver with the 8000's 240Hz power. Maybe next year. These 3 LCD's will also be available in the first half of this year.
Sharp's new BD series TV's will have a built-in Blu-ray player. There will be 5 different sizes ranging from 32 to 52 inches. They are going to be 1080p compatible and we will actually see the smaller versions (32, 37 and 42 inchers) around this month. Next month, we will see the larger, 46 and 52 inchers. Unlike most gadgets at CES, Sharp was not focusing on thinness when they created these TV's. The prices for the TV's are $1,099, $1,299, $1,899, $2,299 and $2,599 USD. I think you should know what costs what.
To round off the current CES news, LG has announced a dozen of new HDTV's. There are 9 LCD's in between the 19 and 60 inch size range, with LED and TruMotion (240Hz) technology and "the wireless capabilities that are becoming all the rage" says
Engadget
. The other 3 are the LH50, PS80 and the almighty LHX slim LED-backlit TV. Let's talk about the LG LHX now. So, the LG LHX LED-backlit LCD TV (lots of capitalizing there) is officially the thinnest LED-backlit TV on the market. I won't force you to say the long name again but this TV will be a massive 55 inches. So, this TV will sport the 240Hz techonlogy and will be only 0.97 inches thick. LG is looking to be a strong competitor this year. So far, it seems that they are one-step above everyone else. It'll be nice to see if LG's sales increase again this year, just like they did from 2007 to 2008.
Samsung Blu-ray Decks (and picture):
http://i.gizmodo.com/5124091/samsung-bd+p36004600-super+slim-fine+looking-wall+friendly-blu+ray-decks
Asus Eee Keyboard (and picture):
http://www.reghardware.co.uk/2009/01/07/asus_eee_keyboard/
Samsung's 3 LCD's (and picture):
http://i.gizmodo.com/5124124/samsung-goes-full-led-backlight-with-series-6000-7000-and-8000-high+end-ultra+thin-lcds
Sharp's New Aquos (and picture):
http://i.gizmodo.com/5124135/sharps-aquos-bd-series-hdtvs-include-built+in-blu+ray-players
LG's Dozen HDTV's:
http://www.engadget.com/2009/01/07/lg-kicks-out-a-dozen-hdtv-product-lines-at-ces-2009/
LG' LHX LCD TV's (and picture):
http://i.gizmodo.com/5125345/lg-led-lcds-are-official-lhx-is-thinnest-lcd-with-led-backlight-240hz-wireless-hdmi