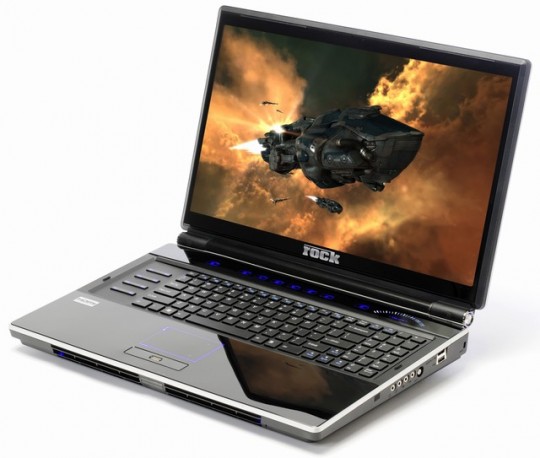 That's right! Rock has just released two new gaming laptops, the Xtreme 790 and the Xtreme 840. Both of these notebooks have: Nvidia GeForce GTX 280M 1GB graphics, a Blu-ray drive, up to 6GB of DDR3 RAM, up to 1.5TB of storage courtesy of three 500GB HDDs (with RAID support), four USB 2.0 ports, WiFi a/b/g/n, a 7-in-1 card reader, a 3-year warranty, and run on Windows 7 Home Premium - with a free Windows 7 upgrade when it gets released. They both also have customizeable lighting, touch-sensitive buttons, and eight gaming buttons "which can be user-set to in-game controls." Now let's set aside the differences.
The Xtreme 790 is the smaller of the two and has: a 17-inch full HD display, and your choice of Intel Core i7 CPUs. This is expected to start at £1,999 ($3,259 USD).
The Xtreme 840 has: an 18.4-inch Full HD display, your choice of Core 2 Duo / Core 2 Quad CPUs, and has support for up to 2 GTX 280M GPUs. There are going to be two versions of the Rock Xtreme 840 notebook, one with single and one with dual graphics. The single and dual GPU Rock Xtreme 840s will cost £1,699 ($2,770 USD) and £2,299 ($3,748 USD), respectively.
All three of these notebooks will "begin shipping at the end of this month."
[
Slash Gear
]