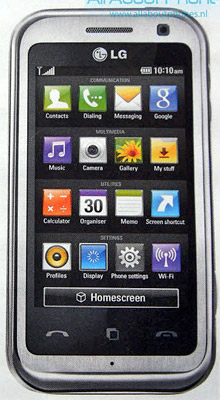 A new LG touchscreen has made its way to the good old Internet today. The upcoming LG KM900 Arena will have a unique UI. The UI is said to be 3D and it will be named "S-Class." The LG Arena will have a "5 megapixel camera with DVD quality video recording capabilities", DivX playback, Bluetooth, GPS and Wi-Fi. This will probably be announced formally at MWC which is weeks away. I will also point out that, like the Toshiba TG01, it also looks similar to the iPhone.

Motorola has mentioned that Windows Mobile 7 won't be out until 2010. Motorola mentioned this as they made their announcement that they were going to be utilizing Android to try to dig themselves out of the hole that they are in. Windows Mobile 7 is not confirmed to be released in 2010, but that's just what Sanjay Jha from Motorola thinks. It sounds about right though, since WinMo 6.5 should hit us in the summertime.

If you go to gmail.com/tasks on your mobile phone, you will be able to use Gmail Tasks on your iPhone or your Android phone. "The new mobile UI works for Android phones and iPhone, and gives you a quick way to view tasks, create new lists, add new tasks, mark tasks as completed, and that's about it."


Apple Tablet? This looks to me like the rumoured 7-9 inch iPod Touch that was mentioned a while ago (here). It doesn't look exactly like the iPod Touch, so i may be wrong. Atlthough, that was my first thought when i saw this picture. Apple's tablet display was said to be described in a recent patent. This picture shows what the tablet may look like, judging from Apple's patent. "The patent describes several forms of these displays-most of them already in use in current Apple laptops-, describing displays attached to portable computers." I'm sure that we'll hear more about this Apple tablet soon.


No, this is not the
iPhone Pro
, but instead we see an iPhone 4G Concept. The "fantasy specs" of this phone include: titanium and glass, an OLED screen, 3G, GPS, front camera for iChat, removable battery, 3.2MP camera, video and 32GB of internal memory. I don't really know why these "fantasy specs" include only having a 3.2MP camera. I think Apple should upgrade the camera to 5 megapixels. Both flashes (for the camera and Internet) weren't even asked for, so i guess i'll add those things on the list also. The OLED screen would be a fascinating idea, but that alone would put a hole in our wallets. Maybe one day Apple fanboy, maybe. I thought i'd also point out that Macy Gray will again be the face of the next iPhone...
joking
.
LG KM900 Arena (and picture):
http://www.gsmarena.com/lg_km900_arena_leaks_touchscreen_fans_leap_with_joy-news-769.php
Windows Mobile 7 in 2010:
http://www.electronista.com/articles/09/02/03/moto.says.win.mo.7.in.2010/
Gmail Tasks On Your Android or iPhone:
http://mashable.com/2009/02/02/gmail-tasks-on-iphone/
Apple Tablet (and picture):
http://i.gizmodo.com/5145104/apple-tablet-likely-described-in-patent
iPhone 4G Concept (and picture):
http://i.gizmodo.com/5145151/iphone-4g-concept-is-a-macbook-in-a-phone